Archive for July, 2013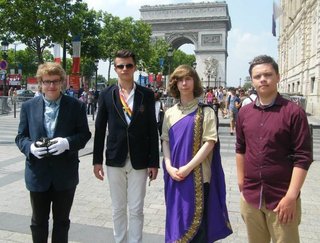 His Imperial Majesty Emperor Jonathan I has returned to the Imperial Residence after spending five days in Paris.
The 2013 Intermicronational Summit which he attended in Paris was also attended by representatives from Francisville, Juclandia, Rukora, Draega, Lostisland, Angyalistan, and the Formori Institute, with a total of nine delegates taking part.
The Emperor arrived in Paris on Monday 15th, the first day of the summit. He shared an apartment with Sir Sebastian Linden of Francisville and Pristinia, Tom Turner of Rukora, and Sir Daniel Morris of Draega and Lostisland.
The delegates staying in the apartment met most days with King Ciprian I of Juclandia, who was staying in Paris with his girlfriend and cousin. Representatives of Angyalistan and of the Formori Institute were also met on Thursday and Friday evening respectively.
The delegates used the five days there to take part in a great deal of discussion on relations between their nations, international politics, and the GUM. They also visited many Parisian landmarks, including the Eiffel Tower, Arc de Triumph, Louvre Museum, and Notre Dame Cathedral.
A new international residential summit is already being planned for July next year in Perugia, Italy.