Archive for February, 2018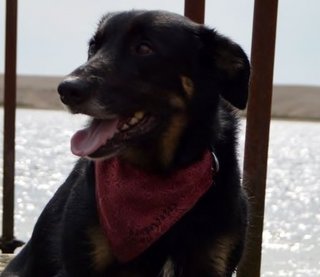 Cleo, pet dog of the family of Princess Hannah, has been appointed the Order of the Bullmastiff's first Honorary Mascot.
The announcement was made by Emperor Jonathan I earlier today.
Cleo has mixed Border Collie/Alsatian ancestry, and lives with the family of Princess Hannah, the Emperor's fiancée.
Since 2009, the Order of the Bullmastiff – an Austenasian order of chivalry named after the Empire's national animal – has had a bullmastiff as its Mascot. However, after the death of Lily last month, the position fell vacant.
With no bullmastiff having been found for the position with suitable ties to the Imperial Family or to the Empire as a whole, the decision was made by the Emperor to appoint an Honorary Mascot, a dog which does not need to be a bullmastiff.
The position of Mascot is entirely ceremonial, and the reason for Cleo's title including the word "Honorary" is simply to reflect the fact that she is not of the dog breed that the Order is named after.
Even if a bullmastiff should go on to be appointed as Mascot proper during Cleo's lifetime, she will retain the title of Honorary Mascot.