Archive for March, 2018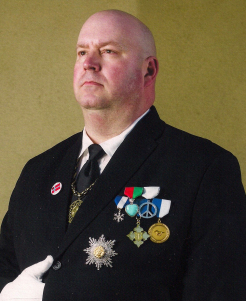 In an announcement yesterday evening on Facebook, King Christopher I of Vikesland announced the dissolution of the kingdom.
The now former king stated that it had become "painfully clear that I could no longer move Vikesland forward and give it the time and resources needed to make it a worthy micro state in the future. My film career and that thing we call life unfortunately needs my attention more. With those left helping me in agreement, we have decided to shut down Vikesland and go our separate ways."
Initially founded in 2005 as the Principality of Vikesland, the nation rose to fame after it was featured in the 2006 book Micronations: The Lonely Planet Guide to Home-Made Nations, and the then Prince Christopher was hosted in a high-profile state visit to the Republic of Molossia in June 2008.
Further achievements of Vikesland include sending its flag to the edge of space by sponsoring a launch by a private spaceflight company in August 2008, and engaging in an aid mission to rural Cuba in February 2009.
In October 2009, Vikesland became the first nation with which the Empire signed a formal diplomatic treaty, having entered into a state of mutual recognition in June earlier that year. The leaders of both nations continued to maintain friendly contact, exchanging Christmas cards and the like.
Messages were sent to the now former King Christopher by Emperor Jonathan I and Prime Minister Lord Admiral Kennedy, thanking the King for his nation's friendship with Austenasia.
On 20th March, the Imperial Navy doubled in size to 26 personnel and saw the acquisition of a new boat to serve as the navy's flagship.
The HIMS Emmanuel, based in New Richmond, is now the flagship of the Imperial Navy. It replaces the two kayaks which were lost upon the ceding of Shineshore to Canada last year.
Several new recruits have also joined the Imperial Navy, increasing its numbers from 13 to 26.
Furthermore, Lord Admiral Kennedy – the Prime Minister and Chief of Naval Operations – has confirmed plans to establish a course in naval science by the end of the year for the commissioning and training of officers.
Jovanovo was yesterday transitioned from a Town into a Crown Dependency in order to remove its now former Representative, Daniel Dankovsky, from Parliament.
Concerns over the behaviour of Dankovsky had been consistently raised both by members of Cabinet and by foreign leaders since he led Jovanovo – an enclave of Montenegro with a population of twelve – into Austenasia in August last year.
Introducing the legislation to downgrade Jovanovo, Emperor Jonathan I summarised what the other members of Parliament already knew; that "for the past seven months the Representative of Jovanovo has made frequent attempts to advocate fascist ideals within Austenasian government. He has consistently displayed a lack of respect towards Austenasia's government, both in terms of the constitutional system and its members, and he has often publicly expressed views which are repugnant to the majority of decent people to the embarrasment of our nation."
As early as October last year, Prime Minister Lord Admiral Kennedy found himself in the situation of having to release a statement clarifying that Dankovsky in no way represented Austenasia in a diplomatic context, after a series of controversial messages posted by the latter online.
On Sunday evening, the final line was crossed when Dankovsky posted in a Skype chatroom of diplomats and politicians that "Lower races should truly know their place."
With unanimous agreement in Cabinet that the imperial government must distance itself from Dankovsky, the legislation to downgrade Jovanovo was entered into force under four hours after being introduced in Parliament, the fastest passage of an Act since records with timestamps began to be kept in late 2016.
The Emperor has also revealed to the Austenasian Times that Dankovsky had approached him in private requesting that the constitution be overthrown in favour of absolutist rule, and had recently suggested that the guarantee of basic human rights be legally denied to "Blacks, Muslims or Jews".
The passage by Parliament yesterday of the Jovanovo Act 2018 has removed all Austenasian titles, offices and honours from Dankovsky. It also contains a paragraph condemning racism and racialism.
Speaking to Parliament, Prime Minister Kennedy stated that "Fascism and racism have no place in our Empire."
Now removed from all positions of authority on a national level, Dankovsky has been made de jure Governing Commissioner of Jovanovo in order to nominally keep it under Austenasian rule, although in reality it is likely that he will soon seek to make it become independent.
UPDATE 23 APRIL 10:30 – Dankovsky has since accepted Jovanovo's new status as a crown dependency, and openly declared it to follow a right-wing ideology called "Legionarism". Despite Jovanovo nominally remaining part of the Empire, Dankovsky will from henceforth be unable to participate in or influence politics on a national level.