Home
>
Austenasia
> Imperial Geographical Society returns to Woldingham
Imperial Geographical Society returns to Woldingham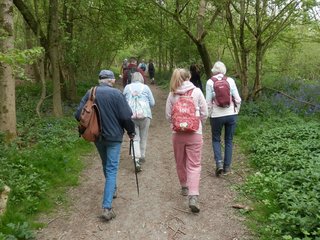 The Imperial Geographical Society (IGS) has conducted an expedition through woods and farmland south-west of the British town of Woldingham.
The expedition re-traced the route of a previous expedition, held in 2014.
The expedition was planned and led by His Imperial Majesty the Emperor, who was joined by twelve other people, including the Imperial Family, Princess Hannah, Lady Boxall (the former Dame Rosalind), and the former residents of Zephyria.
Although Princess Hannah has been on two IGS expeditions in the past, this was the first time that she had joined one of the larger May excursions. It was also the first time that the former Lord Marshal William had joined an IGS expedition since the very first, in 2009.
Re-tracing the steps of the 2014 expedition, the participants were able to compare aspects of the route to their encounter eight years ago; for example, a well-known viewpoint was partially obscured by new tree growth, and various landmarks noted along the way in 2014 were no longer there this time round.
The IGS, since 2009, has customarily launched an annual expedition at the start of May exploring an area of countryside in Surrey.
Due to restrictions on gatherings in the United Kingdom implemented as a result of the coronavirus pandemic, the annual May expedition could not go ahead as usual in 2020 and 2021 (although May 2020 did see an IGS expedition in North America).
However, with all legal restrictions in the UK now lifted, the annual expedition was able to be resumed. With thirteen participants in this expedition, it was larger than the original 2014 one, which had ten.
After the expedition, Emperor Jonathan I and his parents joined Princess Hannah and John of Zephyria for refreshments in a garden centre café on the way back to Carshalton.
A video of today's expedition will be uploaded shortly.