Home
>
Austenasia
> New Mascot of the Order of the Bullmastiff appointed
New Mascot of the Order of the Bullmastiff appointed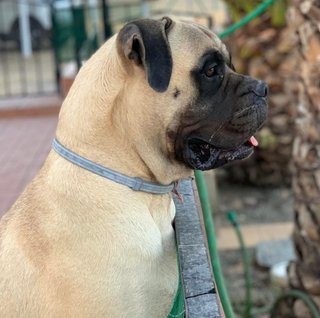 After a vacancy lasting the better part of five years, a new Mascot has been named for the Order of the Bullmastiff.
Penny, a bullmastiff born in April 2020 who is owned by a family friend of the Imperial Family, was named to the position by Emperor Jonathan I earlier today.
The Order of the Bullmastiff is an Austenasian order of chivalry, and the only one to have a Mascot.
The bullmastiff is the national animal of Austenasia, and as such the Mascot serves almost as the ceremonial embodiment of such.
When the Order was founded by Emperor Terry I in January 2009, the Imperial Family had a pet bullmastiff, Rose, who was named Mascot of the Order. After Rose's death in 2014, she was succeeded as Mascot by the Imperial Family's other pet bullmastiff, Edd, and after his death in 2017, the position was taken by Rose's daughter Lily (who did not live with the Imperial Family).
However, upon Lily's death the following year, the position fell vacant.
Provision had been made for this, with a dog of another breed able to be appointed Honorary Mascot to fill the vacancy. The first Honorary Mascot was Cleo, family pet of the Emperor's fiancee Princess Hannah. After Cleo's death last year, a second Honorary Mascot was named as Ralph, family pet of former Prime Minister Lord John Gordon.
Now that a new Mascot has been found in Penny, the two shall serve concurrently. Ralph shall continue to hold the position of Honorary Mascot for the rest of his life, but no replacement will be appointed while a Mascot proper remains in office.
Although born in Cheshire, Penny was exported over to in Spain, where her owners currently live. She comes from a prestigious showing pedigree, with her father having won Best in Breed at Crufts in 2018.
Penny also has familial connections to each of the Imperial Family's two pet bullmastiffs, being the great-x3 niece both of Rose and of Edd.