Home
>
Austenasia
> PM hosts online charity fundraiser Christmas event
PM hosts online charity fundraiser Christmas event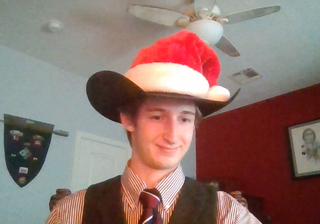 Yesterday saw the Prime Minister, Lord William Wilson, hold an online Christmas celebration to raise money for charity.
The event – the second of its kind – was held on the instant messaging platform Discord, taking the form of a video and voice conference.
Lasting an impressive length of eleven hours, and with a total of thirteen Austenasian and foreign dignitaries taking part, the event was held to raise awareness and encourage donations for the Red Cross relief efforts in Ukraine.
A total of £78 in declared donations was reported.
The conference call saw a Christmas-themed quiz, as well as other online games, and friendly discussion among those taking part.
The fundraiser was held as part of 2022's annual December charity drive by the Order of Saint Constantine – Austenasia's Christian philanthropic order of chivalry – which this year is focusing its efforts on Ukraine.