Posts Tagged 'Jamaica'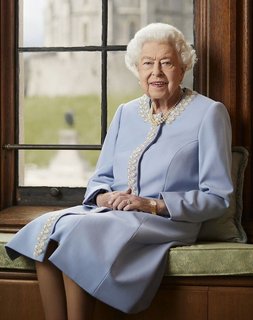 Her Majesty Queen Elizabeth II has died after a reign of 70 years.
Emperor Jonathan I has announced an Empire-wide state of mourning to last until the Queen's funeral.
For the first four and a half years of the Empire of Austenasia, its entire population also owed allegiance to Queen Elizabeth as sovereign of the United Kingdom, with which all Austenasians up to that point were dual citizens.
Even today, due to the various dual nationalities of all Austenasians, Elizabeth II was the joint sovereign of over a quarter of the Austenasian population (27.6%; 29 out of 105).
Elizabeth II is now succeeded as monarch by her son Charles, formerly Prince of Wales, who met Crown Princess Caroline in March earlier this year.
Shortly after learning of her death, Emperor Father Terry led a formal toast to the Queen's memory in Parliament Hall.
Furthermore, Lord John Gordon, Speaker of the House of Representatives, has suspended all parliamentary business.
Full and official tributes to Queen Elizabeth II will be released by the Austenasian Throne and government in due course.
Born on 21 April 1926, Elizabeth II became Queen upon the death of her father King George VI on 6 February 1952. As well as reigning over the United Kingdom, Elizabeth II held the thrones of Canada, Australia, New Zealand, Jamaica, and ten other Commonwealth Realms.
Categories:
International
Australia, Canada, Charles Prince of Wales, Commonwealth of Nations, Crown Princess Caroline, Elizabeth II, Emperor Father Terry, George VI, Jamaica, Jonathan I, Lord John Gordon, New Zealand, Population, Speaker of the House of Representatives, State of mourning, United Kingdom