Posts Tagged 'London Stone'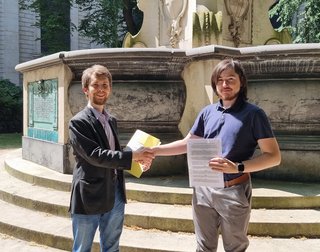 Yesterday saw Emperor Jonathan I sign treaties of mutual recognition with Mercia and with Mekniy-Lurk at an informal summit in central London.
His Imperial Majesty the Emperor met with Austenasian senator Lord Karl Friedrich, who had travelled to the UK from the Czech Republic.
Lord Friedrich serves as Governor of Aurora, and has previously held various Cabinet positions. He jointly owns MicroWiki along with Jonathan I.
However, in addition to his role in Austenasia, Lord Friedrich also serves as joint head of state of two other countries – Mercia and Mekniy-Lurk – both of which have diarchal governments.
Austenasia has held friendly informal relations with Mercia for almost a decade, and extended formal recognition in 2016, but the two countries had never formally signed a treaty. Although the government of the nation has been inactive for some time, Mercia has never been formally dissolved and remains a source of national identity for its citizens.
A state visit from Lord Friedrich to Austenasia in his role as Lord Temporal of Mercia to sign a treaty of mutual recognition had been planned for August 2020, but was cancelled due to the Covid-19 pandemic.
By the time this visit came about, Lord Friedrich had also become co-ruler of Mekniy-Lurk, a highly-developed small nation which declared independence from the Czech Republic in 2009.
The treaties were signed in the grounds of St. Paul's Cathedral in central London. Also there to greet Lord Friedrich to the United Kingdom were James Frisch and Newton von Uberquie, who formerly held office in Mercia as Speaker of Parliament and as First Minister respectively.
The four dignitaries met at Monument station, and visited several nearby landmarks including the eponymous Monument to the Great Fire, the Tower of London, the aforementioned St. Paul's Cathedral, and London Stone.
After eating lunch together, the dignitaries parted ways, with the Emperor accompanying Lord Friedrich to the correct train station for him to continue his travels, via more sightseeing at Westminster and Whitehall.
During the course of the meeting, Lord Friedrich made a donation of several coins and banknotes to the Imperial Numismatic Museum. Notable among these are a Roman denarius of Septimius Severus minted in AD 194-195, and a rare commemorative coin minted by Mekniy-Lurk.
Categories:
Foreign relations
Aurora, Coronavirus, Czech Republic, Foreign relations, Imperial Numismatic Museum, James Frisch, Jonathan I, London, London Stone, Lord Karl Friedrich, Mekniy-Lurk, Mercia, MicroWiki, Monument to the Great Fire of London, Monument Underground station, Newton von Uberquie, St Paul's Cathedral, Tower of London, Westminster, Whitehall