Posts Tagged 'Sutton'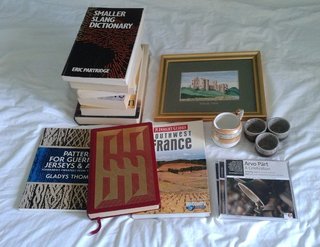 The Order of Saint Constantine has completed its first major philanthropic project, over the course of which it has donated over two hundred items to charity shops.
The Order was founded by Emperor Jonathan I in May last year as a Christian philanthropic order of chivalry.
On 8 June the following month, the Order of Saint Constantine launched Project Melania, with the aim of supplying charity shops with good quality but unwanted items given away for free at the end of large car boot sales.
Every Wednesday, members of the Order would go to a car boot sale in Wimbledon and collect unsold items given away for free at the end. These items would then be given to various charity shops throughout the London Boroughs of Sutton and of Merton.
The long-running weekly car boot sales from which these items were sourced came to an end on Wednesday 12th, and the last of the collected items were donated earlier this morning, bringing Project Melania to a close.
In total, Project Melania donated ninety three books, seventy CDs, forty four DVDs, and nineteen items of bric-a-brac (ornaments, crockery, etc) to charity shops supporting four different charities: Oxfam, Hospices of Hope, St Raphael's Hospice, and Marie Curie.
The Order of Saint Constantine is now looking for new ideas of ways to support charitable causes.