Posts Tagged 'Vikesland'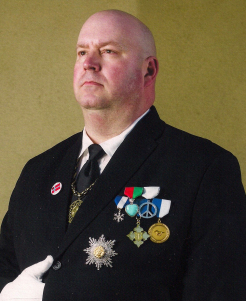 In an announcement yesterday evening on Facebook, King Christopher I of Vikesland announced the dissolution of the kingdom.
The now former king stated that it had become "painfully clear that I could no longer move Vikesland forward and give it the time and resources needed to make it a worthy micro state in the future. My film career and that thing we call life unfortunately needs my attention more. With those left helping me in agreement, we have decided to shut down Vikesland and go our separate ways."
Initially founded in 2005 as the Principality of Vikesland, the nation rose to fame after it was featured in the 2006 book Micronations: The Lonely Planet Guide to Home-Made Nations, and the then Prince Christopher was hosted in a high-profile state visit to the Republic of Molossia in June 2008.
Further achievements of Vikesland include sending its flag to the edge of space by sponsoring a launch by a private spaceflight company in August 2008, and engaging in an aid mission to rural Cuba in February 2009.
In October 2009, Vikesland became the first nation with which the Empire signed a formal diplomatic treaty, having entered into a state of mutual recognition in June earlier that year. The leaders of both nations continued to maintain friendly contact, exchanging Christmas cards and the like.
Messages were sent to the now former King Christopher by Emperor Jonathan I and Prime Minister Lord Admiral Kennedy, thanking the King for his nation's friendship with Austenasia.
DELVERA
On 19 December, the Delveran Ministry of State released a document claiming some half a million square miles of the United States of America around their territorial claims as a "sphere on influence" in which they claimed to have exclusive rights to cultural, military, political, and economic development and expansion along with the US, to the exclusion of any other small nations that may arise.
FLORENIA
On 23 December, King Eran passed a decree ordering the foreign ministry "to resume and expand the diplomatic efforts" of Florenia.
JUCLANDIA
On 20 December, the state owned media service Scânteia was transitioned into an independent news agency, Telenot, funded but not administered by the government. Reforms were also made to the nation's public broadcasting service.
SANDUS
On 21 December, the five citizens of Sandus unanimously voted for the Sôgmô's reign to continue in the annual solstice election.
Earlier today, Sôgmô Soergel added two new days to the already famously busy Sandum calendar; African Diaspora Recognition Day on 12 February to reflect on the effects of slavery and imperialism on African people around the world, and Religious Tolerance Day on 24 August to reflect on religious violence.
VIKESLAND
On 26 December, Vikesland was hit by a snowstorm which blocked the roads into the small country.
WILDFLOWER MEADOWS
On 25 December, Princess Hannah appointed her sister, the now Lady Stephanie, as Marchioness of Wandleside, the most recent territorial acquisition of Wildflower Meadows. Two days later, the neighbouring UK had set up security cameras around the Marquessate, although whether or not this was in response to the claim is yet to be seen.
Categories:
MicroWorld Newsbites
African Diaspora Recognition Day, Delvera, Florenia, Juclandia, King Eran, Lady Stephanie, MicroWorld Newsbites, Princess Consort Hannah, Religious Tolerance Day, Sandus, Scânteia, Telenot, United Kingdom, United States of America, Vikesland, Wandleside, Weather, Wildflower Meadows, Will Sörgel
This is the first instalment of a new monthly feature for the Austenasian Times: MicroWorld Newsbites, in which a look will be taken at news stories from around the world of small nations, which are unlikely to be covered by major news networks.
COPAN
The fence around the Playing Field – part of which formed Copan's international boundary with the United Kingdom and with the Grove – has been removed by Sutton Parks Service.
FLANDRENSIS
The Flandrensisian Commonwealth, a diplomatic partnership between Flandrensis, Arkel and Campinia, was dissolved earlier today. The three members of the Commonwealth – which was founded in October 2010 – all claim territory in Antarctica but have populations based in Belgium and the Netherlands. Due to its members sharing a diplomatic policy, a treaty signed in January 2013 by the Empire to formalise its by then four year old friendship with Flandrensis resulted in diplomatic relations being formed with Arkel and Campinia as well. The three nations remain on good terms, but according to Grand Duke Niels of Flandrensis, a renewed focus on environmental matters and a more global diplomatic outlook made the Commonwealth redundant.
George De Feyter, Minister of Antarctic Environment, has announced "an ambitious programme which aims at alerting all the countries in the world about the dangers of pollution and damaging Antarctica". A letter will be sent each week to another government, starting with the top ten most polluting countries in the world.
MOLOSSIA
VIKESLAND
A change of government structure in Vikesland is being discussed, with more power planned to be transferred to King Christopher to enable more efficient governance.
ZEALANDIA
Between 11 and 13 April, the former Queen Astrid of Zealandia (also known as Anna Lindstrom) launched a self-coup against her own government, replacing the monarchy with a communist state council of which she is now chairwoman as Charlotte Lindstrom. Known for its instability, Zealandia's latest revolution has been criticised by other governments. Diplomatic negotiations to update the treaty between Austenasia and Zealandia concerning New South Scotland – of which the monarch of Zealandia was made ex officio governing commissioner – are currently underway.