Archive for June, 2022
For two weeks in July, the Austenasian Foreign Office will consider requests for diplomatic relations in a temporary lifting of the long-standing policy not to do so.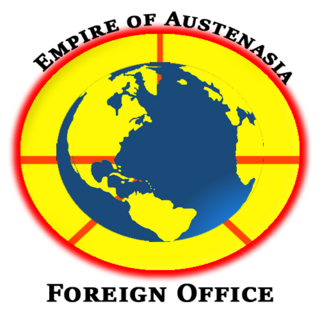 Austenasia has always insisted on granting diplomatic recognition and maintaining relations only with polities of a certain "standard", such as those with an official claim to independence, reasonably professional behaviour, and a well-established presence and stable government.
From the start of the previous decade, the Austenasian government had received a growing number of requests to recognise or even ally with various micronations which were very much below the standards of nations the Empire would be interested in forging official ties with.
Many of these applicants were very young – sometimes mere days old – and ended up dissolving a short time afterwards, meaning diplomatic relations would have been a waste of time.
Having to politely decline each of these requests – as proved the case for most of them – proved a growing drain on the resources of the Foreign Office.
It was therefore the case that on 24 March 2014 the then Prime Minister and Chief Ambassador, HIH Countess Eritoshi, announced that Austenasia would henceforth "refrain from considering non-solicited diplomatic relations… and instead focus… on consolidating and strengthening those relations already held."
This did not prevent the Austenasian government from reaching out on its own initiative to request formal ties with nations in which it was interested, but did provide a means to issue all those in which it was uninterested with a standardly worded "no thank you".
However, earlier today, the Foreign Office has announced that "beginning 3 July and until 17 July, we are temporarily lifting this policy to allow any interested nations to contact us with a request for foreign relations which will be considered."
Permitting requests to be considered will allow potential new friends who may otherwise be overlooked to be considered for formal relations, whereas making it a temporary window will ensure that the number of requests received is relatively manageable.
The idea was first proposed by the Prime Minister, Lord Wilson, in the weekly online meeting of Cabinet.
A link to an online form enabling authorised representatives of their states or nations to apply for diplomatic relations will be published on July 3rd.
UPDATE – The form can be accessed here: https://forms.gle/gAsrpqR4EKUfBro58