State visit to Dracul
Saturday 2nd July saw the Prime Minister, Lord William Wilson, represent the Empire of Austenasia on a state visit to Dracul.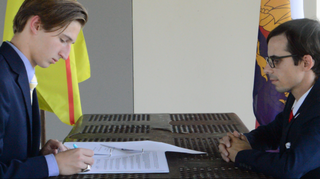 The visit was used as an opportunity to sign a treaty of mutual recognition and friendship between the two nations.
Lord Wilson met with President Stephen Luke of Dracul at the Draculian Embassy to the United States, before the two national leaders travelled to the border of Dracul itself. After entering the country, the visit officially began, with the national anthems of both countries being played.
The Prime Minister then entered the Draculian capital, Bran District, where he and President Luke signed the treaty between Austenasia and Dracul.
After the treaty was signed, an online call was had to His Imperial Majesty the Emperor, who thanked President Luke for his hospitality to Lord Wilson and expressed his wishes for a close and long-lasting friendship between their two nations.
A tour of the nation was then given to the Prime Minister. Lord Wilson observed and made polite remarks about the landmarks of Dracul, and discussion was had on the native flora and fauna of the respective states. The visit ended after the pair returned to the Embassy, whereupon the Prime Minister was given refreshment and gifts of hospitality.
This is the seventh official state visit in which Austenasia has taken part, and the first in almost ten years in which Austenasia was not the hosting state.
The Commonwealth of Dracul is bordered by Texas, and is known in the diplomatic community for its professional demeanour and high-quality media. Dracul was formally recognised by the Empire in March, after several months of informal friendship with Austenasia.
Although technically incorrect in international terminology, it has since 2010 been the custom in Austenasia for an official diplomatic visit made or hosted by the Prime Minister – not just by the Monarch – to also be called a "state visit", so long as the head of state of the other country is being visited or hosted.